Arsenal just about deserved the victory tonight, with Miedema proving what an asset she is to any side. She had one sniff of goal and produced a fine finish to send Arsenal into the group stages.

","elementId":"94b482ec-de0f-4537-aae9-7e35dd68f8ea"}],"attributes":{"pinned":false,"keyEvent":true,"summary":false},"blockCreatedOn":1664391162000,"blockCreatedOnDisplay":"14.52 EDT","blockLastUpdated":1664391302000,"blockLastUpdatedDisplay":"14.55 EDT","blockFirstPublished":1664391302000,"blockFirstPublishedDisplay":"14.55 EDT","blockFirstPublishedDisplayNoTimezone":"14.55″,"title":"Full-time: Ajax 0-1 Arsenal (agg 2-3)","contributors":[],"primaryDateLine":"Wed 28 Sep 2022 14.55 EDT","secondaryDateLine":"First published on Wed 28 Sep 2022 12.00 EDT"},{"id":"63348d7f8f086841b84c3f24″,"elements":[{"_type":"model.dotcomrendering.pageElements.TextBlockElement","html":"

That's the breakthrough Arsenal have been hoping for. Miedema collects the ball from Foord, drives towards the area and drills a shot into the corner from 20 yards.

","elementId":"16993802-7455-4a3a-a792-7add5f764637″},{"_type":"model.dotcomrendering.pageElements.ImageBlockElement","media":{"allImages":[{"index":0,"fields":{"height":"2958″,"width":"4437″},"mediaType":"Image","mimeType":"image/jpeg","url":"https://media.guim.co.uk/2ecbc68c992016a576d312eccf82849413ccc60b/0_0_4437_2958/4437.jpg"},{"index":1,"fields":{"isMaster":"true","height":"2958″,"width":"4437″},"mediaType":"Image","mimeType":"image/jpeg","url":"https://media.guim.co.uk/2ecbc68c992016a576d312eccf82849413ccc60b/0_0_4437_2958/master/4437.jpg"},{"index":2,"fields":{"height":"1333″,"width":"2000″},"mediaType":"Image","mimeType":"image/jpeg","url":"https://media.guim.co.uk/2ecbc68c992016a576d312eccf82849413ccc60b/0_0_4437_2958/2000.jpg"},{"index":3,"fields":{"height":"667″,"width":"1000″},"mediaType":"Image","mimeType":"image/jpeg","url":"https://media.guim.co.uk/2ecbc68c992016a576d312eccf82849413ccc60b/0_0_4437_2958/1000.jpg"},{"index":4,"fields":{"height":"333″,"width":"500″},"mediaType":"Image","mimeType":"image/jpeg","url":"https://media.guim.co.uk/2ecbc68c992016a576d312eccf82849413ccc60b/0_0_4437_2958/500.jpg"},{"index":5,"fields":{"height":"93″,"width":"140″},"mediaType":"Image","mimeType":"image/jpeg","url":"https://media.guim.co.uk/2ecbc68c992016a576d312eccf82849413ccc60b/0_0_4437_2958/140.jpg"}]},"data":{"alt":"Vivianne Miedema is congratulated by her Arsenal team-mates after opening the scoring.","caption":"Vivianne Miedema is congratulated by her Arsenal team-mates after opening the scoring.","credit":"Photograph: Gerrit Van Cologne/ANP/Getty Images"},"displayCredit":true,"role":"inline","imageSources":[{"weighting":"inline","srcSet":[{"src":"https://i.guim.co.uk/img/media/2ecbc68c992016a576d312eccf82849413ccc60b/0_0_4437_2958/master/4437.jpg?width=620&quality=85&auto=format&fit=max&s=6b7afbfe00b0eb9e90f868906af7b5d7″,"width":620},{"src":"https://i.guim.co.uk/img/media/2ecbc68c992016a576d312eccf82849413ccc60b/0_0_4437_2958/master/4437.jpg?width=620&quality=45&auto=format&fit=max&dpr=2&s=229720d6db064d3f1dd74c0bc96a5819″,"width":1240},{"src":"https://i.guim.co.uk/img/media/2ecbc68c992016a576d312eccf82849413ccc60b/0_0_4437_2958/master/4437.jpg?width=605&quality=85&auto=format&fit=max&s=9b7b443adab455a230c3250538a027e2″,"width":605},{"src":"https://i.guim.co.uk/img/media/2ecbc68c992016a576d312eccf82849413ccc60b/0_0_4437_2958/master/4437.jpg?width=605&quality=45&auto=format&fit=max&dpr=2&s=53f038e74cafc84f14db637bdc19f2a9″,"width":1210},{"src":"https://i.guim.co.uk/img/media/2ecbc68c992016a576d312eccf82849413ccc60b/0_0_4437_2958/master/4437.jpg?width=445&quality=85&auto=format&fit=max&s=00d2f37eacdadf2c25884326879a33c2″,"width":445},{"src":"https://i.guim.co.uk/img/media/2ecbc68c992016a576d312eccf82849413ccc60b/0_0_4437_2958/master/4437.jpg?width=445&quality=45&auto=format&fit=max&dpr=2&s=4134fb50de074f30cf5656bf8979fa57″,"width":890}]},{"weighting":"thumbnail","srcSet":[{"src":"https://i.guim.co.uk/img/media/2ecbc68c992016a576d312eccf82849413ccc60b/0_0_4437_2958/master/4437.jpg?width=140&quality=85&auto=format&fit=max&s=84462b5e465d98ce4043f3748eb8c4bd","width":140},{"src":"https://i.guim.co.uk/img/media/2ecbc68c992016a576d312eccf82849413ccc60b/0_0_4437_2958/master/4437.jpg?width=140&quality=45&auto=format&fit=max&dpr=2&s=6cd3dd5273415624b6a63f49406434ce","width":280},{"src":"https://i.guim.co.uk/img/media/2ecbc68c992016a576d312eccf82849413ccc60b/0_0_4437_2958/master/4437.jpg?width=120&quality=85&auto=format&fit=max&s=5bb7a5add02c64f5bb746aab778d7662″,"width":120},{"src":"https://i.guim.co.uk/img/media/2ecbc68c992016a576d312eccf82849413ccc60b/0_0_4437_2958/master/4437.jpg?width=120&quality=45&auto=format&fit=max&dpr=2&s=de7f36a4509272c0f56cebb7912f0554″,"width":240}]},{"weighting":"supporting","srcSet":[{"src":"https://i.guim.co.uk/img/media/2ecbc68c992016a576d312eccf82849413ccc60b/0_0_4437_2958/master/4437.jpg?width=380&quality=85&auto=format&fit=max&s=a3c3207b94d1d6edb18dc90cca9c0677″,"width":380},{"src":"https://i.guim.co.uk/img/media/2ecbc68c992016a576d312eccf82849413ccc60b/0_0_4437_2958/master/4437.jpg?width=380&quality=45&auto=format&fit=max&dpr=2&s=ed1b8da5513eb9db48337eae2217848f","width":760},{"src":"https://i.guim.co.uk/img/media/2ecbc68c992016a576d312eccf82849413ccc60b/0_0_4437_2958/master/4437.jpg?width=300&quality=85&auto=format&fit=max&s=fb9a19550d8a3cc074d20a1201758726″,"width":300},{"src":"https://i.guim.co.uk/img/media/2ecbc68c992016a576d312eccf82849413ccc60b/0_0_4437_2958/master/4437.jpg?width=300&quality=45&auto=format&fit=max&dpr=2&s=471ce740cbcfc41e97561d5812ec69be","width":600},{"src":"https://i.guim.co.uk/img/media/2ecbc68c992016a576d312eccf82849413ccc60b/0_0_4437_2958/master/4437.jpg?width=620&quality=85&auto=format&fit=max&s=6b7afbfe00b0eb9e90f868906af7b5d7″,"width":620},{"src":"https://i.guim.co.uk/img/media/2ecbc68c992016a576d312eccf82849413ccc60b/0_0_4437_2958/master/4437.jpg?width=620&quality=45&auto=format&fit=max&dpr=2&s=229720d6db064d3f1dd74c0bc96a5819″,"width":1240},{"src":"https://i.guim.co.uk/img/media/2ecbc68c992016a576d312eccf82849413ccc60b/0_0_4437_2958/master/4437.jpg?width=605&quality=85&auto=format&fit=max&s=9b7b443adab455a230c3250538a027e2″,"width":605},{"src":"https://i.guim.co.uk/img/media/2ecbc68c992016a576d312eccf82849413ccc60b/0_0_4437_2958/master/4437.jpg?width=605&quality=45&auto=format&fit=max&dpr=2&s=53f038e74cafc84f14db637bdc19f2a9″,"width":1210},{"src":"https://i.guim.co.uk/img/media/2ecbc68c992016a576d312eccf82849413ccc60b/0_0_4437_2958/master/4437.jpg?width=445&quality=85&auto=format&fit=max&s=00d2f37eacdadf2c25884326879a33c2″,"width":445},{"src":"https://i.guim.co.uk/img/media/2ecbc68c992016a576d312eccf82849413ccc60b/0_0_4437_2958/master/4437.jpg?width=445&quality=45&auto=format&fit=max&dpr=2&s=4134fb50de074f30cf5656bf8979fa57″,"width":890}]},{"weighting":"showcase","srcSet":[{"src":"https://i.guim.co.uk/img/media/2ecbc68c992016a576d312eccf82849413ccc60b/0_0_4437_2958/master/4437.jpg?width=860&quality=85&auto=format&fit=max&s=216a1ec75783d127b7e747508851c5c7″,"width":860},{"src":"https://i.guim.co.uk/img/media/2ecbc68c992016a576d312eccf82849413ccc60b/0_0_4437_2958/master/4437.jpg?width=860&quality=45&auto=format&fit=max&dpr=2&s=8b14308f367b6a83eccf6f78e92e07aa","width":1720},{"src":"https://i.guim.co.uk/img/media/2ecbc68c992016a576d312eccf82849413ccc60b/0_0_4437_2958/master/4437.jpg?width=780&quality=85&auto=format&fit=max&s=9f0ce8788f0ac71c47a3c2d9578e684a","width":780},{"src":"https://i.guim.co.uk/img/media/2ecbc68c992016a576d312eccf82849413ccc60b/0_0_4437_2958/master/4437.jpg?width=780&quality=45&auto=format&fit=max&dpr=2&s=ccce6ceace3c5cb08223a2e38e99e580″,"width":1560},{"src":"https://i.guim.co.uk/img/media/2ecbc68c992016a576d312eccf82849413ccc60b/0_0_4437_2958/master/4437.jpg?width=620&quality=85&auto=format&fit=max&s=6b7afbfe00b0eb9e90f868906af7b5d7″,"width":620},{"src":"https://i.guim.co.uk/img/media/2ecbc68c992016a576d312eccf82849413ccc60b/0_0_4437_2958/master/4437.jpg?width=620&quality=45&auto=format&fit=max&dpr=2&s=229720d6db064d3f1dd74c0bc96a5819″,"width":1240},{"src":"https://i.guim.co.uk/img/media/2ecbc68c992016a576d312eccf82849413ccc60b/0_0_4437_2958/master/4437.jpg?width=605&quality=85&auto=format&fit=max&s=9b7b443adab455a230c3250538a027e2″,"width":605},{"src":"https://i.guim.co.uk/img/media/2ecbc68c992016a576d312eccf82849413ccc60b/0_0_4437_2958/master/4437.jpg?width=605&quality=45&auto=format&fit=max&dpr=2&s=53f038e74cafc84f14db637bdc19f2a9″,"width":1210},{"src":"https://i.guim.co.uk/img/media/2ecbc68c992016a576d312eccf82849413ccc60b/0_0_4437_2958/master/4437.jpg?width=445&quality=85&auto=format&fit=max&s=00d2f37eacdadf2c25884326879a33c2″,"width":445},{"src":"https://i.guim.co.uk/img/media/2ecbc68c992016a576d312eccf82849413ccc60b/0_0_4437_2958/master/4437.jpg?width=445&quality=45&auto=format&fit=max&dpr=2&s=4134fb50de074f30cf5656bf8979fa57″,"width":890}]},{"weighting":"halfwidth","srcSet":[{"src":"https://i.guim.co.uk/img/media/2ecbc68c992016a576d312eccf82849413ccc60b/0_0_4437_2958/master/4437.jpg?width=620&quality=85&auto=format&fit=max&s=6b7afbfe00b0eb9e90f868906af7b5d7″,"width":620},{"src":"https://i.guim.co.uk/img/media/2ecbc68c992016a576d312eccf82849413ccc60b/0_0_4437_2958/master/4437.jpg?width=620&quality=45&auto=format&fit=max&dpr=2&s=229720d6db064d3f1dd74c0bc96a5819″,"width":1240},{"src":"https://i.guim.co.uk/img/media/2ecbc68c992016a576d312eccf82849413ccc60b/0_0_4437_2958/master/4437.jpg?width=605&quality=85&auto=format&fit=max&s=9b7b443adab455a230c3250538a027e2″,"width":605},{"src":"https://i.guim.co.uk/img/media/2ecbc68c992016a576d312eccf82849413ccc60b/0_0_4437_2958/master/4437.jpg?width=605&quality=45&auto=format&fit=max&dpr=2&s=53f038e74cafc84f14db637bdc19f2a9″,"width":1210},{"src":"https://i.guim.co.uk/img/media/2ecbc68c992016a576d312eccf82849413ccc60b/0_0_4437_2958/master/4437.jpg?width=445&quality=85&auto=format&fit=max&s=00d2f37eacdadf2c25884326879a33c2″,"width":445},{"src":"https://i.guim.co.uk/img/media/2ecbc68c992016a576d312eccf82849413ccc60b/0_0_4437_2958/master/4437.jpg?width=445&quality=45&auto=format&fit=max&dpr=2&s=4134fb50de074f30cf5656bf8979fa57″,"width":890}]},{"weighting":"immersive","srcSet":[{"src":"https://i.guim.co.uk/img/media/2ecbc68c992016a576d312eccf82849413ccc60b/0_0_4437_2958/master/4437.jpg?width=1900&quality=85&auto=format&fit=max&s=f574b68530d0b3cf65c3a56ffc7c292e","width":1900},{"src":"https://i.guim.co.uk/img/media/2ecbc68c992016a576d312eccf82849413ccc60b/0_0_4437_2958/master/4437.jpg?width=1900&quality=45&auto=format&fit=max&dpr=2&s=dc9931a03b3d1d5c83c9dd0f2be8d926″,"width":3800},{"src":"https://i.guim.co.uk/img/media/2ecbc68c992016a576d312eccf82849413ccc60b/0_0_4437_2958/master/4437.jpg?width=1300&quality=85&auto=format&fit=max&s=fa88d3318550f48c596c02355543559b","width":1300},{"src":"https://i.guim.co.uk/img/media/2ecbc68c992016a576d312eccf82849413ccc60b/0_0_4437_2958/master/4437.jpg?width=1300&quality=45&auto=format&fit=max&dpr=2&s=357f535fe311a13e1b51d44e9e7e2fbd","width":2600},{"src":"https://i.guim.co.uk/img/media/2ecbc68c992016a576d312eccf82849413ccc60b/0_0_4437_2958/master/4437.jpg?width=1140&quality=85&auto=format&fit=max&s=dc052a7d286d50d7b6e187f4b7929b09″,"width":1140},{"src":"https://i.guim.co.uk/img/media/2ecbc68c992016a576d312eccf82849413ccc60b/0_0_4437_2958/master/4437.jpg?width=1140&quality=45&auto=format&fit=max&dpr=2&s=c73b160c626d236a9ecf497f6ad5e135″,"width":2280},{"src":"https://i.guim.co.uk/img/media/2ecbc68c992016a576d312eccf82849413ccc60b/0_0_4437_2958/master/4437.jpg?width=980&quality=85&auto=format&fit=max&s=35cc183e2bcd91a9f44438d6e189ab7d","width":980},{"src":"https://i.guim.co.uk/img/media/2ecbc68c992016a576d312eccf82849413ccc60b/0_0_4437_2958/master/4437.jpg?width=980&quality=45&auto=format&fit=max&dpr=2&s=ea712d78eabfbd6e8ef2c3276a11e4f1″,"width":1960},{"src":"https://i.guim.co.uk/img/media/2ecbc68c992016a576d312eccf82849413ccc60b/0_0_4437_2958/master/4437.jpg?width=740&quality=85&auto=format&fit=max&s=3ad07c77dba711d6b1662cb2939b40c6″,"width":740},{"src":"https://i.guim.co.uk/img/media/2ecbc68c992016a576d312eccf82849413ccc60b/0_0_4437_2958/master/4437.jpg?width=740&quality=45&auto=format&fit=max&dpr=2&s=ca0d6a41b727257bcea89d3b16f67cdc","width":1480},{"src":"https://i.guim.co.uk/img/media/2ecbc68c992016a576d312eccf82849413ccc60b/0_0_4437_2958/master/4437.jpg?width=660&quality=85&auto=format&fit=max&s=61fe2b646b0d7d5e97899bdf71998866″,"width":660},{"src":"https://i.guim.co.uk/img/media/2ecbc68c992016a576d312eccf82849413ccc60b/0_0_4437_2958/master/4437.jpg?width=660&quality=45&auto=format&fit=max&dpr=2&s=ffa5793bda2d8bf04227090e9a22dd28″,"width":1320},{"src":"https://i.guim.co.uk/img/media/2ecbc68c992016a576d312eccf82849413ccc60b/0_0_4437_2958/master/4437.jpg?width=480&quality=85&auto=format&fit=max&s=90b55018dd60fc2536ddea8b2740d086″,"width":480},{"src":"https://i.guim.co.uk/img/media/2ecbc68c992016a576d312eccf82849413ccc60b/0_0_4437_2958/master/4437.jpg?width=480&quality=45&auto=format&fit=max&dpr=2&s=ee88c08d23f7d55cb4f004494e80b855″,"width":960}]}],"elementId":"3725d777-19ed-4fd0-bec9-c5b09715230a"},{"_type":"model.dotcomrendering.pageElements.ImageBlockElement","media":{"allImages":[{"index":0,"fields":{"height":"3197″,"width":"5328″},"mediaType":"Image","mimeType":"image/jpeg","url":"https://media.guim.co.uk/45b8aa05826e89502e96198ec55a7af5fb895f05/0_355_5328_3197/5328.jpg"},{"index":1,"fields":{"isMaster":"true","height":"3197″,"width":"5328″},"mediaType":"Image","mimeType":"image/jpeg","url":"https://media.guim.co.uk/45b8aa05826e89502e96198ec55a7af5fb895f05/0_355_5328_3197/master/5328.jpg"},{"index":2,"fields":{"height":"1200″,"width":"2000″},"mediaType":"Image","mimeType":"image/jpeg","url":"https://media.guim.co.uk/45b8aa05826e89502e96198ec55a7af5fb895f05/0_355_5328_3197/2000.jpg"},{"index":3,"fields":{"height":"600″,"width":"1000″},"mediaType":"Image","mimeType":"image/jpeg","url":"https://media.guim.co.uk/45b8aa05826e89502e96198ec55a7af5fb895f05/0_355_5328_3197/1000.jpg"},{"index":4,"fields":{"height":"300″,"width":"500″},"mediaType":"Image","mimeType":"image/jpeg","url":"https://media.guim.co.uk/45b8aa05826e89502e96198ec55a7af5fb895f05/0_355_5328_3197/500.jpg"},{"index":5,"fields":{"height":"84″,"width":"140″},"mediaType":"Image","mimeType":"image/jpeg","url":"https://media.guim.co.uk/45b8aa05826e89502e96198ec55a7af5fb895f05/0_355_5328_3197/140.jpg"}]},"data":{"alt":"Ashleigh Weerden of Ajax looks disappointed after Vivianne Miedema put Arsenal ahead early in the second half.","caption":"Ashleigh Weerden of Ajax looks disappointed after as the Arsenal players celebrate.","credit":"Photograph: ANP/Getty Images"},"displayCredit":true,"role":"inline","imageSources":[{"weighting":"inline","srcSet":[{"src":"https://i.guim.co.uk/img/media/45b8aa05826e89502e96198ec55a7af5fb895f05/0_355_5328_3197/master/5328.jpg?width=620&quality=85&auto=format&fit=max&s=32d893932260cb20d6d86f5ab4fa4a76″,"width":620},{"src":"https://i.guim.co.uk/img/media/45b8aa05826e89502e96198ec55a7af5fb895f05/0_355_5328_3197/master/5328.jpg?width=620&quality=45&auto=format&fit=max&dpr=2&s=721ca82d5f00b0d0a958e905eb38ecde","width":1240},{"src":"https://i.guim.co.uk/img/media/45b8aa05826e89502e96198ec55a7af5fb895f05/0_355_5328_3197/master/5328.jpg?width=605&quality=85&auto=format&fit=max&s=d6549bee336fdabde32cdf2caa0b7a8a","width":605},{"src":"https://i.guim.co.uk/img/media/45b8aa05826e89502e96198ec55a7af5fb895f05/0_355_5328_3197/master/5328.jpg?width=605&quality=45&auto=format&fit=max&dpr=2&s=7049ec4ae3d34d2cd0fb9e8f132bb630″,"width":1210},{"src":"https://i.guim.co.uk/img/media/45b8aa05826e89502e96198ec55a7af5fb895f05/0_355_5328_3197/master/5328.jpg?width=445&quality=85&auto=format&fit=max&s=769409110548d68de2f695aa9554343e","width":445},{"src":"https://i.guim.co.uk/img/media/45b8aa05826e89502e96198ec55a7af5fb895f05/0_355_5328_3197/master/5328.jpg?width=445&quality=45&auto=format&fit=max&dpr=2&s=54332d95d275c157f6bccbb0aa8507bb","width":890}]},{"weighting":"thumbnail","srcSet":[{"src":"https://i.guim.co.uk/img/media/45b8aa05826e89502e96198ec55a7af5fb895f05/0_355_5328_3197/master/5328.jpg?width=140&quality=85&auto=format&fit=max&s=3d4d6851ee589165387da3a72df4a674″,"width":140},{"src":"https://i.guim.co.uk/img/media/45b8aa05826e89502e96198ec55a7af5fb895f05/0_355_5328_3197/master/5328.jpg?width=140&quality=45&auto=format&fit=max&dpr=2&s=83c4d286df5afc82af2d3c0959178374″,"width":280},{"src":"https://i.guim.co.uk/img/media/45b8aa05826e89502e96198ec55a7af5fb895f05/0_355_5328_3197/master/5328.jpg?width=120&quality=85&auto=format&fit=max&s=db1a24428dbeb846e3c4a7b57e157c64″,"width":120},{"src":"https://i.guim.co.uk/img/media/45b8aa05826e89502e96198ec55a7af5fb895f05/0_355_5328_3197/master/5328.jpg?width=120&quality=45&auto=format&fit=max&dpr=2&s=6be4212b6f81f84533ca631c904fc02b","width":240}]},{"weighting":"supporting","srcSet":[{"src":"https://i.guim.co.uk/img/media/45b8aa05826e89502e96198ec55a7af5fb895f05/0_355_5328_3197/master/5328.jpg?width=380&quality=85&auto=format&fit=max&s=1309b902c344a376558cccd6ef242a3f","width":380},{"src":"https://i.guim.co.uk/img/media/45b8aa05826e89502e96198ec55a7af5fb895f05/0_355_5328_3197/master/5328.jpg?width=380&quality=45&auto=format&fit=max&dpr=2&s=623dd70fb87e3d10bbca458c3aa83ec2″,"width":760},{"src":"https://i.guim.co.uk/img/media/45b8aa05826e89502e96198ec55a7af5fb895f05/0_355_5328_3197/master/5328.jpg?width=300&quality=85&auto=format&fit=max&s=3f93b81ec313cf020e29d3a7acccd851″,"width":300},{"src":"https://i.guim.co.uk/img/media/45b8aa05826e89502e96198ec55a7af5fb895f05/0_355_5328_3197/master/5328.jpg?width=300&quality=45&auto=format&fit=max&dpr=2&s=a9f5e9ac8faf1ea37c5f8e7eab3302e4″,"width":600},{"src":"https://i.guim.co.uk/img/media/45b8aa05826e89502e96198ec55a7af5fb895f05/0_355_5328_3197/master/5328.jpg?width=620&quality=85&auto=format&fit=max&s=32d893932260cb20d6d86f5ab4fa4a76″,"width":620},{"src":"https://i.guim.co.uk/img/media/45b8aa05826e89502e96198ec55a7af5fb895f05/0_355_5328_3197/master/5328.jpg?width=620&quality=45&auto=format&fit=max&dpr=2&s=721ca82d5f00b0d0a958e905eb38ecde","width":1240},{"src":"https://i.guim.co.uk/img/media/45b8aa05826e89502e96198ec55a7af5fb895f05/0_355_5328_3197/master/5328.jpg?width=605&quality=85&auto=format&fit=max&s=d6549bee336fdabde32cdf2caa0b7a8a","width":605},{"src":"https://i.guim.co.uk/img/media/45b8aa05826e89502e96198ec55a7af5fb895f05/0_355_5328_3197/master/5328.jpg?width=605&quality=45&auto=format&fit=max&dpr=2&s=7049ec4ae3d34d2cd0fb9e8f132bb630″,"width":1210},{"src":"https://i.guim.co.uk/img/media/45b8aa05826e89502e96198ec55a7af5fb895f05/0_355_5328_3197/master/5328.jpg?width=445&quality=85&auto=format&fit=max&s=769409110548d68de2f695aa9554343e","width":445},{"src":"https://i.guim.co.uk/img/media/45b8aa05826e89502e96198ec55a7af5fb895f05/0_355_5328_3197/master/5328.jpg?width=445&quality=45&auto=format&fit=max&dpr=2&s=54332d95d275c157f6bccbb0aa8507bb","width":890}]},{"weighting":"showcase","srcSet":[{"src":"https://i.guim.co.uk/img/media/45b8aa05826e89502e96198ec55a7af5fb895f05/0_355_5328_3197/master/5328.jpg?width=860&quality=85&auto=format&fit=max&s=405d648a7871e413c31364e2d673d4fd","width":860},{"src":"https://i.guim.co.uk/img/media/45b8aa05826e89502e96198ec55a7af5fb895f05/0_355_5328_3197/master/5328.jpg?width=860&quality=45&auto=format&fit=max&dpr=2&s=7e6e85f6456eb4a651c2bd9a70db0cd8″,"width":1720},{"src":"https://i.guim.co.uk/img/media/45b8aa05826e89502e96198ec55a7af5fb895f05/0_355_5328_3197/master/5328.jpg?width=780&quality=85&auto=format&fit=max&s=a60fbf851617590770c4810f0812dbbe","width":780},{"src":"https://i.guim.co.uk/img/media/45b8aa05826e89502e96198ec55a7af5fb895f05/0_355_5328_3197/master/5328.jpg?width=780&quality=45&auto=format&fit=max&dpr=2&s=fc1185d1c8b65c98789f53a0cb935ed3″,"width":1560},{"src":"https://i.guim.co.uk/img/media/45b8aa05826e89502e96198ec55a7af5fb895f05/0_355_5328_3197/master/5328.jpg?width=620&quality=85&auto=format&fit=max&s=32d893932260cb20d6d86f5ab4fa4a76″,"width":620},{"src":"https://i.guim.co.uk/img/media/45b8aa05826e89502e96198ec55a7af5fb895f05/0_355_5328_3197/master/5328.jpg?width=620&quality=45&auto=format&fit=max&dpr=2&s=721ca82d5f00b0d0a958e905eb38ecde","width":1240},{"src":"https://i.guim.co.uk/img/media/45b8aa05826e89502e96198ec55a7af5fb895f05/0_355_5328_3197/master/5328.jpg?width=605&quality=85&auto=format&fit=max&s=d6549bee336fdabde32cdf2caa0b7a8a","width":605},{"src":"https://i.guim.co.uk/img/media/45b8aa05826e89502e96198ec55a7af5fb895f05/0_355_5328_3197/master/5328.jpg?width=605&quality=45&auto=format&fit=max&dpr=2&s=7049ec4ae3d34d2cd0fb9e8f132bb630″,"width":1210},{"src":"https://i.guim.co.uk/img/media/45b8aa05826e89502e96198ec55a7af5fb895f05/0_355_5328_3197/master/5328.jpg?width=445&quality=85&auto=format&fit=max&s=769409110548d68de2f695aa9554343e","width":445},{"src":"https://i.guim.co.uk/img/media/45b8aa05826e89502e96198ec55a7af5fb895f05/0_355_5328_3197/master/5328.jpg?width=445&quality=45&auto=format&fit=max&dpr=2&s=54332d95d275c157f6bccbb0aa8507bb","width":890}]},{"weighting":"halfwidth","srcSet":[{"src":"https://i.guim.co.uk/img/media/45b8aa05826e89502e96198ec55a7af5fb895f05/0_355_5328_3197/master/5328.jpg?width=620&quality=85&auto=format&fit=max&s=32d893932260cb20d6d86f5ab4fa4a76″,"width":620},{"src":"https://i.guim.co.uk/img/media/45b8aa05826e89502e96198ec55a7af5fb895f05/0_355_5328_3197/master/5328.jpg?width=620&quality=45&auto=format&fit=max&dpr=2&s=721ca82d5f00b0d0a958e905eb38ecde","width":1240},{"src":"https://i.guim.co.uk/img/media/45b8aa05826e89502e96198ec55a7af5fb895f05/0_355_5328_3197/master/5328.jpg?width=605&quality=85&auto=format&fit=max&s=d6549bee336fdabde32cdf2caa0b7a8a","width":605},{"src":"https://i.guim.co.uk/img/media/45b8aa05826e89502e96198ec55a7af5fb895f05/0_355_5328_3197/master/5328.jpg?width=605&quality=45&auto=format&fit=max&dpr=2&s=7049ec4ae3d34d2cd0fb9e8f132bb630″,"width":1210},{"src":"https://i.guim.co.uk/img/media/45b8aa05826e89502e96198ec55a7af5fb895f05/0_355_5328_3197/master/5328.jpg?width=445&quality=85&auto=format&fit=max&s=769409110548d68de2f695aa9554343e","width":445},{"src":"https://i.guim.co.uk/img/media/45b8aa05826e89502e96198ec55a7af5fb895f05/0_355_5328_3197/master/5328.jpg?width=445&quality=45&auto=format&fit=max&dpr=2&s=54332d95d275c157f6bccbb0aa8507bb","width":890}]},{"weighting":"immersive","srcSet":[{"src":"https://i.guim.co.uk/img/media/45b8aa05826e89502e96198ec55a7af5fb895f05/0_355_5328_3197/master/5328.jpg?width=1900&quality=85&auto=format&fit=max&s=f004875e8b951013ba3f331e09557f2d","width":1900},{"src":"https://i.guim.co.uk/img/media/45b8aa05826e89502e96198ec55a7af5fb895f05/0_355_5328_3197/master/5328.jpg?width=1900&quality=45&auto=format&fit=max&dpr=2&s=16d52e475c09d551317228eea5f5b315″,"width":3800},{"src":"https://i.guim.co.uk/img/media/45b8aa05826e89502e96198ec55a7af5fb895f05/0_355_5328_3197/master/5328.jpg?width=1300&quality=85&auto=format&fit=max&s=66bfdc60ce17e65c19fa48a350787b35″,"width":1300},{"src":"https://i.guim.co.uk/img/media/45b8aa05826e89502e96198ec55a7af5fb895f05/0_355_5328_3197/master/5328.jpg?width=1300&quality=45&auto=format&fit=max&dpr=2&s=b38c8fbffef522249bd76f186e2e5167″,"width":2600},{"src":"https://i.guim.co.uk/img/media/45b8aa05826e89502e96198ec55a7af5fb895f05/0_355_5328_3197/master/5328.jpg?width=1140&quality=85&auto=format&fit=max&s=c64fb68256a25b03b55ce1753d2a762e","width":1140},{"src":"https://i.guim.co.uk/img/media/45b8aa05826e89502e96198ec55a7af5fb895f05/0_355_5328_3197/master/5328.jpg?width=1140&quality=45&auto=format&fit=max&dpr=2&s=03eb4e0ea912750b9696b6111d137c66″,"width":2280},{"src":"https://i.guim.co.uk/img/media/45b8aa05826e89502e96198ec55a7af5fb895f05/0_355_5328_3197/master/5328.jpg?width=980&quality=85&auto=format&fit=max&s=7695115175a6c68f34ea60cb4454ea33″,"width":980},{"src":"https://i.guim.co.uk/img/media/45b8aa05826e89502e96198ec55a7af5fb895f05/0_355_5328_3197/master/5328.jpg?width=980&quality=45&auto=format&fit=max&dpr=2&s=8392caccfd7b83266417bb18c0f8cf34″,"width":1960},{"src":"https://i.guim.co.uk/img/media/45b8aa05826e89502e96198ec55a7af5fb895f05/0_355_5328_3197/master/5328.jpg?width=740&quality=85&auto=format&fit=max&s=aded9c32270ba0f009501a60a48a73e9″,"width":740},{"src":"https://i.guim.co.uk/img/media/45b8aa05826e89502e96198ec55a7af5fb895f05/0_355_5328_3197/master/5328.jpg?width=740&quality=45&auto=format&fit=max&dpr=2&s=1e3059bafd9bc795069883b2a9ce58b6″,"width":1480},{"src":"https://i.guim.co.uk/img/media/45b8aa05826e89502e96198ec55a7af5fb895f05/0_355_5328_3197/master/5328.jpg?width=660&quality=85&auto=format&fit=max&s=0dfecbbb93164a5965d2bda6cb15e717″,"width":660},{"src":"https://i.guim.co.uk/img/media/45b8aa05826e89502e96198ec55a7af5fb895f05/0_355_5328_3197/master/5328.jpg?width=660&quality=45&auto=format&fit=max&dpr=2&s=56e9c700e87a694ed0b0094b94301492″,"width":1320},{"src":"https://i.guim.co.uk/img/media/45b8aa05826e89502e96198ec55a7af5fb895f05/0_355_5328_3197/master/5328.jpg?width=480&quality=85&auto=format&fit=max&s=73ac70ce133a760aeecf05498a707e84″,"width":480},{"src":"https://i.guim.co.uk/img/media/45b8aa05826e89502e96198ec55a7af5fb895f05/0_355_5328_3197/master/5328.jpg?width=480&quality=45&auto=format&fit=max&dpr=2&s=84231e8fa8d4d9ac1913cefdf0a7ae9b","width":960}]}],"elementId":"13c7fc33-2300-4833-9be0-e82ff499de00″}],"attributes":{"pinned":false,"keyEvent":true,"summary":false},"blockCreatedOn":1664388479000,"blockCreatedOnDisplay":"14.07 EDT","blockLastUpdated":1664389932000,"blockLastUpdatedDisplay":"14.32 EDT","blockFirstPublished":1664388609000,"blockFirstPublishedDisplay":"14.10 EDT","blockFirstPublishedDisplayNoTimezone":"14.10″,"title":"GOAL! Ajax 0-1 Arsenal (agg 2-3) (Miedema, 51)","contributors":[],"primaryDateLine":"Wed 28 Sep 2022 14.55 EDT","secondaryDateLine":"First published on Wed 28 Sep 2022 12.00 EDT"},{"id":"63348c178f086841b84c3f10″,"elements":[{"_type":"model.dotcomrendering.pageElements.TextBlockElement","html":"

Here we go again!

","elementId":"7aadd39c-e535-4d00-935c-b4d29a30ed0a"}],"attributes":{"pinned":false,"keyEvent":true,"summary":false},"blockCreatedOn":1664388119000,"blockCreatedOnDisplay":"14.01 EDT","blockLastUpdated":1664388216000,"blockLastUpdatedDisplay":"14.03 EDT","blockFirstPublished":1664388216000,"blockFirstPublishedDisplay":"14.03 EDT","blockFirstPublishedDisplayNoTimezone":"14.03″,"title":"Second half","contributors":[],"primaryDateLine":"Wed 28 Sep 2022 14.55 EDT","secondaryDateLine":"First published on Wed 28 Sep 2022 12.00 EDT"},{"id":"6334884e8f08ef7e8107c262″,"elements":[{"_type":"model.dotcomrendering.pageElements.TextBlockElement","html":"

It is all pretty even but neither side has really troubled the opposition goalkeeper.

","elementId":"74d61509-b459-4b21-8221-1d03933e6754″}],"attributes":{"pinned":false,"keyEvent":true,"summary":false},"blockCreatedOn":1664387151000,"blockCreatedOnDisplay":"13.45 EDT","blockLastUpdated":1664387262000,"blockLastUpdatedDisplay":"13.47 EDT","blockFirstPublished":1664387262000,"blockFirstPublishedDisplay":"13.47 EDT","blockFirstPublishedDisplayNoTimezone":"13.47″,"title":"Half-time: Ajax 0-0 Arsenal (agg 2-2)","contributors":[],"primaryDateLine":"Wed 28 Sep 2022 14.55 EDT","secondaryDateLine":"First published on Wed 28 Sep 2022 12.00 EDT"},{"id":"63347d7f8f084e56bac57832″,"elements":[{"_type":"model.dotcomrendering.pageElements.TextBlockElement","html":"

Peep! Peep! Peep! Here we go!

","elementId":"27f376c9-3f7f-4607-a3ea-e189d8a5d9b1″},{"_type":"model.dotcomrendering.pageElements.ImageBlockElement","media":{"allImages":[{"index":0,"fields":{"height":"3160″,"width":"5267″},"mediaType":"Image","mimeType":"image/jpeg","url":"https://media.guim.co.uk/85709fea4ef865e3dcbd9be79585f2fa82ac89a3/395_403_5267_3160/5267.jpg"},{"index":1,"fields":{"isMaster":"true","height":"3160″,"width":"5267″},"mediaType":"Image","mimeType":"image/jpeg","url":"https://media.guim.co.uk/85709fea4ef865e3dcbd9be79585f2fa82ac89a3/395_403_5267_3160/master/5267.jpg"},{"index":2,"fields":{"height":"1200″,"width":"2000″},"mediaType":"Image","mimeType":"image/jpeg","url":"https://media.guim.co.uk/85709fea4ef865e3dcbd9be79585f2fa82ac89a3/395_403_5267_3160/2000.jpg"},{"index":3,"fields":{"height":"600″,"width":"1000″},"mediaType":"Image","mimeType":"image/jpeg","url":"https://media.guim.co.uk/85709fea4ef865e3dcbd9be79585f2fa82ac89a3/395_403_5267_3160/1000.jpg"},{"index":4,"fields":{"height":"300″,"width":"500″},"mediaType":"Image","mimeType":"image/jpeg","url":"https://media.guim.co.uk/85709fea4ef865e3dcbd9be79585f2fa82ac89a3/395_403_5267_3160/500.jpg"},{"index":5,"fields":{"height":"84″,"width":"140″},"mediaType":"Image","mimeType":"image/jpeg","url":"https://media.guim.co.uk/85709fea4ef865e3dcbd9be79585f2fa82ac89a3/395_403_5267_3160/140.jpg"}]},"data":{"alt":"The match officials lead the players out onto the pitch at sports complex De Toekomst.","caption":"The match officials lead the players out onto the pitch at sports complex De Toekomst.","credit":"Photograph: Gerrit Van Cologne/ ANP/Getty Images"},"displayCredit":true,"role":"inline","imageSources":[{"weighting":"inline","srcSet":[{"src":"https://i.guim.co.uk/img/media/85709fea4ef865e3dcbd9be79585f2fa82ac89a3/395_403_5267_3160/master/5267.jpg?width=620&quality=85&auto=format&fit=max&s=8ceef6dcb5ff72183acc371eb365776e","width":620},{"src":"https://i.guim.co.uk/img/media/85709fea4ef865e3dcbd9be79585f2fa82ac89a3/395_403_5267_3160/master/5267.jpg?width=620&quality=45&auto=format&fit=max&dpr=2&s=25d96c3ff57d4471e08dc857ee0fd793″,"width":1240},{"src":"https://i.guim.co.uk/img/media/85709fea4ef865e3dcbd9be79585f2fa82ac89a3/395_403_5267_3160/master/5267.jpg?width=605&quality=85&auto=format&fit=max&s=f47dd2e965538c71b3510bfc82643e2f","width":605},{"src":"https://i.guim.co.uk/img/media/85709fea4ef865e3dcbd9be79585f2fa82ac89a3/395_403_5267_3160/master/5267.jpg?width=605&quality=45&auto=format&fit=max&dpr=2&s=414adf27db833bd9de87e9822aa11d81″,"width":1210},{"src":"https://i.guim.co.uk/img/media/85709fea4ef865e3dcbd9be79585f2fa82ac89a3/395_403_5267_3160/master/5267.jpg?width=445&quality=85&auto=format&fit=max&s=79d16a11370e3915ff1e1796eaac52b3″,"width":445},{"src":"https://i.guim.co.uk/img/media/85709fea4ef865e3dcbd9be79585f2fa82ac89a3/395_403_5267_3160/master/5267.jpg?width=445&quality=45&auto=format&fit=max&dpr=2&s=f72e3907ea717454190cc870428646eb","width":890}]},{"weighting":"thumbnail","srcSet":[{"src":"https://i.guim.co.uk/img/media/85709fea4ef865e3dcbd9be79585f2fa82ac89a3/395_403_5267_3160/master/5267.jpg?width=140&quality=85&auto=format&fit=max&s=7daeb6b8d492def424cdf705648a3062″,"width":140},{"src":"https://i.guim.co.uk/img/media/85709fea4ef865e3dcbd9be79585f2fa82ac89a3/395_403_5267_3160/master/5267.jpg?width=140&quality=45&auto=format&fit=max&dpr=2&s=ff518c6bcaaf57527bb060d50b50e65f","width":280},{"src":"https://i.guim.co.uk/img/media/85709fea4ef865e3dcbd9be79585f2fa82ac89a3/395_403_5267_3160/master/5267.jpg?width=120&quality=85&auto=format&fit=max&s=995924dc7b10bfddcb8d7491f0453d8e","width":120},{"src":"https://i.guim.co.uk/img/media/85709fea4ef865e3dcbd9be79585f2fa82ac89a3/395_403_5267_3160/master/5267.jpg?width=120&quality=45&auto=format&fit=max&dpr=2&s=5854d63c7798e6490d8cc644cf260c01″,"width":240}]},{"weighting":"supporting","srcSet":[{"src":"https://i.guim.co.uk/img/media/85709fea4ef865e3dcbd9be79585f2fa82ac89a3/395_403_5267_3160/master/5267.jpg?width=380&quality=85&auto=format&fit=max&s=527237027a23be7039f335f87746effb","width":380},{"src":"https://i.guim.co.uk/img/media/85709fea4ef865e3dcbd9be79585f2fa82ac89a3/395_403_5267_3160/master/5267.jpg?width=380&quality=45&auto=format&fit=max&dpr=2&s=032a456b8ae9a0a0ad3456519f45d89e","width":760},{"src":"https://i.guim.co.uk/img/media/85709fea4ef865e3dcbd9be79585f2fa82ac89a3/395_403_5267_3160/master/5267.jpg?width=300&quality=85&auto=format&fit=max&s=ada8977d23970fed62eb401666b79574″,"width":300},{"src":"https://i.guim.co.uk/img/media/85709fea4ef865e3dcbd9be79585f2fa82ac89a3/395_403_5267_3160/master/5267.jpg?width=300&quality=45&auto=format&fit=max&dpr=2&s=bf0b1866abb19b93b3255583ff2feef6″,"width":600},{"src":"https://i.guim.co.uk/img/media/85709fea4ef865e3dcbd9be79585f2fa82ac89a3/395_403_5267_3160/master/5267.jpg?width=620&quality=85&auto=format&fit=max&s=8ceef6dcb5ff72183acc371eb365776e","width":620},{"src":"https://i.guim.co.uk/img/media/85709fea4ef865e3dcbd9be79585f2fa82ac89a3/395_403_5267_3160/master/5267.jpg?width=620&quality=45&auto=format&fit=max&dpr=2&s=25d96c3ff57d4471e08dc857ee0fd793″,"width":1240},{"src":"https://i.guim.co.uk/img/media/85709fea4ef865e3dcbd9be79585f2fa82ac89a3/395_403_5267_3160/master/5267.jpg?width=605&quality=85&auto=format&fit=max&s=f47dd2e965538c71b3510bfc82643e2f","width":605},{"src":"https://i.guim.co.uk/img/media/85709fea4ef865e3dcbd9be79585f2fa82ac89a3/395_403_5267_3160/master/5267.jpg?width=605&quality=45&auto=format&fit=max&dpr=2&s=414adf27db833bd9de87e9822aa11d81″,"width":1210},{"src":"https://i.guim.co.uk/img/media/85709fea4ef865e3dcbd9be79585f2fa82ac89a3/395_403_5267_3160/master/5267.jpg?width=445&quality=85&auto=format&fit=max&s=79d16a11370e3915ff1e1796eaac52b3″,"width":445},{"src":"https://i.guim.co.uk/img/media/85709fea4ef865e3dcbd9be79585f2fa82ac89a3/395_403_5267_3160/master/5267.jpg?width=445&quality=45&auto=format&fit=max&dpr=2&s=f72e3907ea717454190cc870428646eb","width":890}]},{"weighting":"showcase","srcSet":[{"src":"https://i.guim.co.uk/img/media/85709fea4ef865e3dcbd9be79585f2fa82ac89a3/395_403_5267_3160/master/5267.jpg?width=860&quality=85&auto=format&fit=max&s=8de95bb33c1b06d7222cdfd3b202fd30″,"width":860},{"src":"https://i.guim.co.uk/img/media/85709fea4ef865e3dcbd9be79585f2fa82ac89a3/395_403_5267_3160/master/5267.jpg?width=860&quality=45&auto=format&fit=max&dpr=2&s=aa25582077bc402078f661d51bc630d6″,"width":1720},{"src":"https://i.guim.co.uk/img/media/85709fea4ef865e3dcbd9be79585f2fa82ac89a3/395_403_5267_3160/master/5267.jpg?width=780&quality=85&auto=format&fit=max&s=25742f63cf8b53cfbc15830f17a4f7a8″,"width":780},{"src":"https://i.guim.co.uk/img/media/85709fea4ef865e3dcbd9be79585f2fa82ac89a3/395_403_5267_3160/master/5267.jpg?width=780&quality=45&auto=format&fit=max&dpr=2&s=b191233bad8a389cbea73eaaec17c9fd","width":1560},{"src":"https://i.guim.co.uk/img/media/85709fea4ef865e3dcbd9be79585f2fa82ac89a3/395_403_5267_3160/master/5267.jpg?width=620&quality=85&auto=format&fit=max&s=8ceef6dcb5ff72183acc371eb365776e","width":620},{"src":"https://i.guim.co.uk/img/media/85709fea4ef865e3dcbd9be79585f2fa82ac89a3/395_403_5267_3160/master/5267.jpg?width=620&quality=45&auto=format&fit=max&dpr=2&s=25d96c3ff57d4471e08dc857ee0fd793″,"width":1240},{"src":"https://i.guim.co.uk/img/media/85709fea4ef865e3dcbd9be79585f2fa82ac89a3/395_403_5267_3160/master/5267.jpg?width=605&quality=85&auto=format&fit=max&s=f47dd2e965538c71b3510bfc82643e2f","width":605},{"src":"https://i.guim.co.uk/img/media/85709fea4ef865e3dcbd9be79585f2fa82ac89a3/395_403_5267_3160/master/5267.jpg?width=605&quality=45&auto=format&fit=max&dpr=2&s=414adf27db833bd9de87e9822aa11d81″,"width":1210},{"src":"https://i.guim.co.uk/img/media/85709fea4ef865e3dcbd9be79585f2fa82ac89a3/395_403_5267_3160/master/5267.jpg?width=445&quality=85&auto=format&fit=max&s=79d16a11370e3915ff1e1796eaac52b3″,"width":445},{"src":"https://i.guim.co.uk/img/media/85709fea4ef865e3dcbd9be79585f2fa82ac89a3/395_403_5267_3160/master/5267.jpg?width=445&quality=45&auto=format&fit=max&dpr=2&s=f72e3907ea717454190cc870428646eb","width":890}]},{"weighting":"halfwidth","srcSet":[{"src":"https://i.guim.co.uk/img/media/85709fea4ef865e3dcbd9be79585f2fa82ac89a3/395_403_5267_3160/master/5267.jpg?width=620&quality=85&auto=format&fit=max&s=8ceef6dcb5ff72183acc371eb365776e","width":620},{"src":"https://i.guim.co.uk/img/media/85709fea4ef865e3dcbd9be79585f2fa82ac89a3/395_403_5267_3160/master/5267.jpg?width=620&quality=45&auto=format&fit=max&dpr=2&s=25d96c3ff57d4471e08dc857ee0fd793″,"width":1240},{"src":"https://i.guim.co.uk/img/media/85709fea4ef865e3dcbd9be79585f2fa82ac89a3/395_403_5267_3160/master/5267.jpg?width=605&quality=85&auto=format&fit=max&s=f47dd2e965538c71b3510bfc82643e2f","width":605},{"src":"https://i.guim.co.uk/img/media/85709fea4ef865e3dcbd9be79585f2fa82ac89a3/395_403_5267_3160/master/5267.jpg?width=605&quality=45&auto=format&fit=max&dpr=2&s=414adf27db833bd9de87e9822aa11d81″,"width":1210},{"src":"https://i.guim.co.uk/img/media/85709fea4ef865e3dcbd9be79585f2fa82ac89a3/395_403_5267_3160/master/5267.jpg?width=445&quality=85&auto=format&fit=max&s=79d16a11370e3915ff1e1796eaac52b3″,"width":445},{"src":"https://i.guim.co.uk/img/media/85709fea4ef865e3dcbd9be79585f2fa82ac89a3/395_403_5267_3160/master/5267.jpg?width=445&quality=45&auto=format&fit=max&dpr=2&s=f72e3907ea717454190cc870428646eb","width":890}]},{"weighting":"immersive","srcSet":[{"src":"https://i.guim.co.uk/img/media/85709fea4ef865e3dcbd9be79585f2fa82ac89a3/395_403_5267_3160/master/5267.jpg?width=1900&quality=85&auto=format&fit=max&s=c15360506ad19ef38d3591f538e84806″,"width":1900},{"src":"https://i.guim.co.uk/img/media/85709fea4ef865e3dcbd9be79585f2fa82ac89a3/395_403_5267_3160/master/5267.jpg?width=1900&quality=45&auto=format&fit=max&dpr=2&s=6ff3b0feecde044a03458737ef9d39d1″,"width":3800},{"src":"https://i.guim.co.uk/img/media/85709fea4ef865e3dcbd9be79585f2fa82ac89a3/395_403_5267_3160/master/5267.jpg?width=1300&quality=85&auto=format&fit=max&s=572d1f2fdf6ce4dec8dad8ade764e8b5″,"width":1300},{"src":"https://i.guim.co.uk/img/media/85709fea4ef865e3dcbd9be79585f2fa82ac89a3/395_403_5267_3160/master/5267.jpg?width=1300&quality=45&auto=format&fit=max&dpr=2&s=5dce9cff735c2a28227ab58a811d421d","width":2600},{"src":"https://i.guim.co.uk/img/media/85709fea4ef865e3dcbd9be79585f2fa82ac89a3/395_403_5267_3160/master/5267.jpg?width=1140&quality=85&auto=format&fit=max&s=092e3c4aaddc6885156fa5cc51b5bfa5″,"width":1140},{"src":"https://i.guim.co.uk/img/media/85709fea4ef865e3dcbd9be79585f2fa82ac89a3/395_403_5267_3160/master/5267.jpg?width=1140&quality=45&auto=format&fit=max&dpr=2&s=b316fd49b4b5469125cd738380fea8b7″,"width":2280},{"src":"https://i.guim.co.uk/img/media/85709fea4ef865e3dcbd9be79585f2fa82ac89a3/395_403_5267_3160/master/5267.jpg?width=980&quality=85&auto=format&fit=max&s=acee83f2a16baf0b436dbac6f4ac53ae","width":980},{"src":"https://i.guim.co.uk/img/media/85709fea4ef865e3dcbd9be79585f2fa82ac89a3/395_403_5267_3160/master/5267.jpg?width=980&quality=45&auto=format&fit=max&dpr=2&s=939386cb2b87c3c7323a7f7c3d937560″,"width":1960},{"src":"https://i.guim.co.uk/img/media/85709fea4ef865e3dcbd9be79585f2fa82ac89a3/395_403_5267_3160/master/5267.jpg?width=740&quality=85&auto=format&fit=max&s=4f185b928ac59b3776494529e21a58f6″,"width":740},{"src":"https://i.guim.co.uk/img/media/85709fea4ef865e3dcbd9be79585f2fa82ac89a3/395_403_5267_3160/master/5267.jpg?width=740&quality=45&auto=format&fit=max&dpr=2&s=49bf160e3f2e53f9a20a6bda88c7b3d1″,"width":1480},{"src":"https://i.guim.co.uk/img/media/85709fea4ef865e3dcbd9be79585f2fa82ac89a3/395_403_5267_3160/master/5267.jpg?width=660&quality=85&auto=format&fit=max&s=4a6d8958ef0bbda7fe164b585103bac9″,"width":660},{"src":"https://i.guim.co.uk/img/media/85709fea4ef865e3dcbd9be79585f2fa82ac89a3/395_403_5267_3160/master/5267.jpg?width=660&quality=45&auto=format&fit=max&dpr=2&s=ad8412cc53fdcd2c7f4e93d06dfff47e","width":1320},{"src":"https://i.guim.co.uk/img/media/85709fea4ef865e3dcbd9be79585f2fa82ac89a3/395_403_5267_3160/master/5267.jpg?width=480&quality=85&auto=format&fit=max&s=0a4cc8b344ca5a7a88061c3ad1fa3d7d","width":480},{"src":"https://i.guim.co.uk/img/media/85709fea4ef865e3dcbd9be79585f2fa82ac89a3/395_403_5267_3160/master/5267.jpg?width=480&quality=45&auto=format&fit=max&dpr=2&s=18d73424a20a3133a38dfd44e5f143a3″,"width":960}]}],"elementId":"57016b23-f8cc-40bb-9509-d46e5750616b"}],"attributes":{"pinned":false,"keyEvent":true,"summary":false},"blockCreatedOn":1664384383000,"blockCreatedOnDisplay":"12.59 EDT","blockLastUpdated":1664385348000,"blockLastUpdatedDisplay":"13.15 EDT","blockFirstPublished":1664384443000,"blockFirstPublishedDisplay":"13.00 EDT","blockFirstPublishedDisplayNoTimezone":"13.00″,"title":"Kick-off","contributors":[],"primaryDateLine":"Wed 28 Sep 2022 14.55 EDT","secondaryDateLine":"First published on Wed 28 Sep 2022 12.00 EDT"},{"id":"63346fac8f08ef7e8107c0e2″,"elements":[{"_type":"model.dotcomrendering.pageElements.TextBlockElement","html":"

Ajax: Kop, Van der Most, Kardinaal, Doorn, Verhoeven, Spitse, Noordam, Pelova, Grant, Leuchter, Weerden

","elementId":"c669b700-87b2-4f8b-8933-4d8e7588fb8d"},{"_type":"model.dotcomrendering.pageElements.TextBlockElement","html":"

Subs: Bussman, Van der Wal, Munsterman, Tromp, Kruize, Keijzer, Hoekstra, Bakker, Van Gool, Sabajo, De Sanders

","elementId":"32a2a4b4-fbaf-41db-992f-a678daa1d7e1″},{"_type":"model.dotcomrendering.pageElements.TextBlockElement","html":"

Arsenal: Zinsberger; Wienroither, Williamson, Rafaelle, Catley; Little, Walti, Miedema; McCabe, Blackstenius, Foord

","elementId":"069f1c07-7525-4cf4-988e-443ec03763a2″},{"_type":"model.dotcomrendering.pageElements.TextBlockElement","html":"

Subs: Marckese, Williams, Wubben-Moy, Beattie, Martiz, Maanum, Nobbs, Iwabuchi, Mead, Hurtig

","elementId":"be50dc84-64ec-4424-a199-848620303e48″}],"attributes":{"pinned":false,"keyEvent":true,"summary":false},"blockCreatedOn":1664380844000,"blockCreatedOnDisplay":"12.00 EDT","blockLastUpdated":1664385903000,"blockLastUpdatedDisplay":"13.25 EDT","blockFirstPublished":1664381026000,"blockFirstPublishedDisplay":"12.03 EDT","blockFirstPublishedDisplayNoTimezone":"12.03″,"title":"Starting lineups","contributors":[],"primaryDateLine":"Wed 28 Sep 2022 14.55 EDT","secondaryDateLine":"First published on Wed 28 Sep 2022 12.00 EDT"},{"id":"633415e68f08ef7e8107bc6d","elements":[{"_type":"model.dotcomrendering.pageElements.TextBlockElement","html":"

Captain Kim Little says Arsenal "need to do more and need to be better" which sums up their situation going into their do or die Champions League clash with Ajax. A 2-2 draw at home leaves progression to the group stage in the balance but the Gunners will be confident following their weekend routing of rivals Spurs.

","elementId":"3204104f-238a-4625-818e-acee22cd366e"},{"_type":"model.dotcomrendering.pageElements.TextBlockElement","html":"

Arsenal were poor last week in the first leg, there is no doubting that but, at the same time, they possess quality throughout the team and those individuals will not want to be out of the Champions League before October. The Gunners will think they can go a long way in this year and elimination at such an early stage would be a huge failure.

","elementId":"f3307656-9e75-4df7-8aea-34382afce6a4″},{"_type":"model.dotcomrendering.pageElements.TextBlockElement","html":"

Failure to make the group stage will be huge blow for Arsenal, especially by losing to supposedly inferior opposition. Ajax made it to the round of 32 in 2020-21 but did not feature last season so will feel another year without a foray in the competition proper would be underwhelming.

","elementId":"bde47996-7ed7-425d-93a6-c1cea49c3408″},{"_type":"model.dotcomrendering.pageElements.TextBlockElement","html":"

Let's hope for a cracker.

","elementId":"330fa62e-aa7a-4fef-8759-9101736e3e24″},{"_type":"model.dotcomrendering.pageElements.TextBlockElement","html":"

6pm BST kick-off.

","elementId":"a94fb7d5-8ac4-4927-9871-cd2191ff19c1″}],"attributes":{"pinned":false,"keyEvent":true,"summary":false},"blockCreatedOn":1664380811000,"blockCreatedOnDisplay":"12.00 EDT","blockLastUpdated":1664373094000,"blockLastUpdatedDisplay":"09.51 EDT","blockFirstPublished":1664380811000,"blockFirstPublishedDisplay":"12.00 EDT","blockFirstPublishedDisplayNoTimezone":"12.00″,"title":"Preamble","contributors":[],"primaryDateLine":"Wed 28 Sep 2022 14.55 EDT","secondaryDateLine":"First published on Wed 28 Sep 2022 12.00 EDT"}],"filterKeyEvents":false,"format":{"display":0,"theme":2,"design":10},"id":"key-events-carousel-mobile"}">

main events
Full-time: Ajax 0-1 Arsenal (2-3 aggregate)
Arsenal deserved to win tonight, as Miedema proves to be an asset to any team. She had a goal sniff and produced a fine finishing touch to send Arsenal into the group stages.
90 + 4 minutes: Catley knocks a cross from the back for a corner that Arsenal has left behind.
The ball hits Cardinal 30 yards from goal but her shot is awful – it goes high and wide.
90 + 2 minutes: Eidevall was groaning slightly at Doorn for no reason at all. Get over it, my friend.
90 minutes: Doorn was booked due to med contamination there. Meade is still down and in a lot of pain. Not sure if it will last.
Hurtig on Med.
Six minutes have been added.
88 minutes: Meth and Dorn collision. Her Arsenal teammates rushed over to her and pushed her to her side. Both groups of paramedics work quickly. Arsenal is not satisfied with the confrontation. I personally don't think it was intentional but Dorn grabbed a mead on the side of his face.
86 minutes: Arsenal is trying to walk in a second. Foord enters the box but is then forced to retreat from inside the six-yard box. The balls reach Meade but she takes her time and misses the opportunity.
Trump on, give Ajax.
84 minutes: Midema is off and no one is coming. Arsenal are looking to get more bodies in midfield.
82 minutes: There is not enough pace in Ajax's attacks to threaten Arsenal's defense at the moment. Everything is done at a snail's pace.
80 minutes: Ajax may need to diversify their ideas… starting with replacing Van der Most with Packer.
78 minutes: McCabe turns back but her engraved cross is erased.
75 minutes: Maccabi heads the ball into the air inside the penalty area but Belova fails to make a decent contact and seeps into the goalkeeper.
73 minutes: How not to enter? !! Nordam shoots the ball to Nordam who sends a good cross along the six-yard line but Hoekstra drives it wide under pressure from Wubben-Moy.
71 minutes: Meade spins around his back and pulls the ball back to Wienroither who misses her shot. The ball eventually reached Foord on the edge of the penalty area shooting, only to see her attempt to save with a combination of defender and goalkeeper.
69 minutes: Some calculated play from Ajax, the ball reaches Grant on the right and makes a Wubben-Moy cross for a corner. Work was done a short distance from Spitse who turns in a deep cross under the crossbar but the goalkeeper claims easily.
67 minutes: Zinsberger rushes out of her area to clear a long ball over the top but only achieves to kick it in the air. Fortunately, Wienroither is waiting and can strike away.
Blackstenius has been replaced by Mead for Arsenal.
65 minutes: Hoekstra plays for Ajax. replace Weerden.
63 minutes: Weerden gets to the side line but McCabe hits to block the cross and awards a corner kick.
61 minutes: Arsenal are trying to slow things down and seem to be well organized in defense since the first goal.
59 minutes: Midima enters the penalty area and aims for the far corner, but Cobb manages to block her effort.
57 minutes: Walti tries to find Blackstenius on the edge of the penalty area but McCabe gets in the way and tries to control the ball, only to see it bounce into the goalkeeper's arms.
55 minutes: Wubben-Moy likes to come out of defense with the ball. It really helps Arsenal go faster.
53 minutes: Ajax will need to get out and make the case here, which is what it has struggled with so far. Can they raise it?
Goal! Ajax 0-1 Arsenal (2-3 aggregate) (Medema, 51)
This is the breakthrough Arsenal were hoping for. Miedema collects the ball from the Foord, pushes into the area and punches a shot into the corner from 20 yards.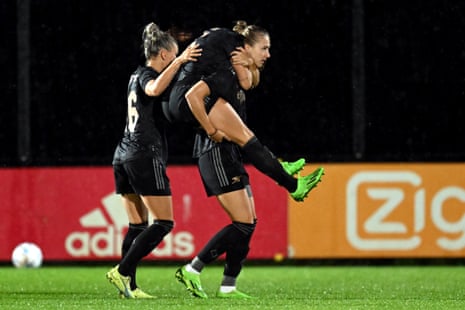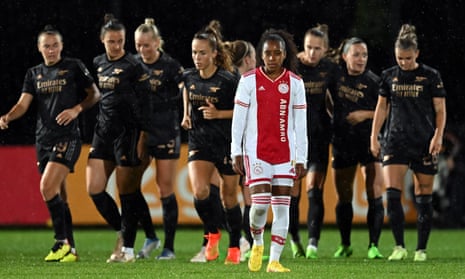 49 minutes: Wienroither mocks Belova near the halfway line but the referee awards only a free kick.
47 minutes: Charles Antaki says: "Feelings are not good for Arsenal – very little happens up front, with Ajax threatening at the break; if they score the first goal, they will dig more and maybe curtains for this year's Champions League. It's time for Beth Mead…"
here we go again!
Read half the time.
First half: Ajax 0-0 Arsenal (2-2 aggregate)
Everything is nice but none of the opposing goalkeeper really bothered.
45 minutes: Two minutes have been added.
44 minutes: Arsenal certainly have a lot of ball but they struggle to create a lot with it.
42 minutes: Ajax tried to clear the ball, but Spetsy hit the ball with Belova's head and it landed at Midema's feet. The Dutch international pays, but her shot always escalates.